Welcome to the land of the sun, the ocean, volcanoes and, thankfully, wine and cheese!
From the deep black volcanic soil to the salty ocean breeze, the terroirs of the Canaries have given rise to a variety of delicious flavours that will enchant those who taste them. In this article, we are going to familiarise you – very superficially! – with the world of Tenerife's wine and cheese.
Tenerife's wine-growing history dates back to the 15th century when the Spanish conquistadors introduced the first vineyards to the island. Tenerife is home to five distinct wine-growing regions: Valle de la Orotava, Ycoden-Daute-Isora, Abona, Tacoronte-Acentejo, and Valle de Güímar. These five regions represent roughly 8,000 hectares of vineyards, which is extremely unusual and peculiar for such a small area, each one having its own microclimate and soil composition that produces a highly varied range of wines.
One of the characteristics of Tenerife wine is its multicultural character: Spanish wines with a strong Portuguese influence in the know-how, but also the use of ancient grape varieties. This is the case of the Baboso Negro grape, a red grape that has been grown on the island for over 500 years. Known for its intense aroma and high tannin content, it is popular for producing robust red wines. Another very popular grape variety in Tenerife is Listán Blanco. This is a white grape variety native to the Canary Islands, often used to produce fresher, fruitier white wines with notes of tropical fruit and citrus, which are the perfect pairing for Canarian recipes based on fish and seafood.
Whether you prefer a bright white, a full-bodied red, or a sparkling wine, there's a Tenerife wine to suit every palate.
Some of Tenerife's most famous wines come from the volcanic Tacoronte-Acentejo region, where the mineral-rich soil gives the grapes a distinct smoky flavour. For a typical wine experience, try a glass of Tenerife's unique Malvasia wine. Made from grapes dried in the sun on straw mats, the wine has a sweet, intense taste, similar to a dessert wine. Try using it as something of a contrast – pair it with red fruit, which will balance out the sugar, or with chocolate with a high cocoa content. You won't regret it, and you'll impress all your friends too!
If you're a wine lover, there are plenty of bodegas and other wine-related places to visit on the island.

Take a peek below at some of the places of interest and make the most of your stay!
Bodegas Monje is a family-run winery that produces a range of wines, from Crianza to Blanco Seco. The bodega also has a restaurant where you can enjoy local cuisine accompanied by your favourite wine.
For those keen on learning, a good option is La Casa del Vino de Tenerife. This monument belongs to the Cabildo de Tenerife and includes a restaurant, a wine shop and an exhibition centre on the island's rural and agricultural environment. La Casa del Vino de Tenerife also offers wine-tasting workshops on Tenerife wines, events linked to the wine industry and guided tours in several languages!
One of the wineries and productions that stands out in the La Orotava valley, not only for its size but also for its beautiful history, is Bodegas Arautava: a family-run winery steeped in tradition. And although the Bodega does not offer organised tours, you can always try to get in touch via the website and give it a go.
The Malvasía Museum, located in the Plaza de la Pila, is an interesting place to discover Tenerife's winemaking tradition and, more specifically, Malvasía production techniques and grapes. This is a museum-cellar where you can taste several volcanic wines, a liqueur and the famous Canarian mojos with bread, while learning more about how this delicious wine is made.
Finally, if you're looking for a more discreet experience, in Icod you can always visit Bodega Viña Engracia, which has been producing Denomination of Origin wines since 1994. It has won national and international awards and, to top it all off, it even delivers right to your door!
No wine tasting is complete without a little cheese to complement it, and Tenerife is full of delicious varieties to choose from. The island's cheese-making tradition dates back to pre-Hispanic times, and the techniques have been passed down from generation to generation. It remains a testament to the island's rich history and the resilience of its people. Cheese has now become a symbol of Tenerife's identity, its cultural and gastronomic heritage. It's a genuine source of pride for its people!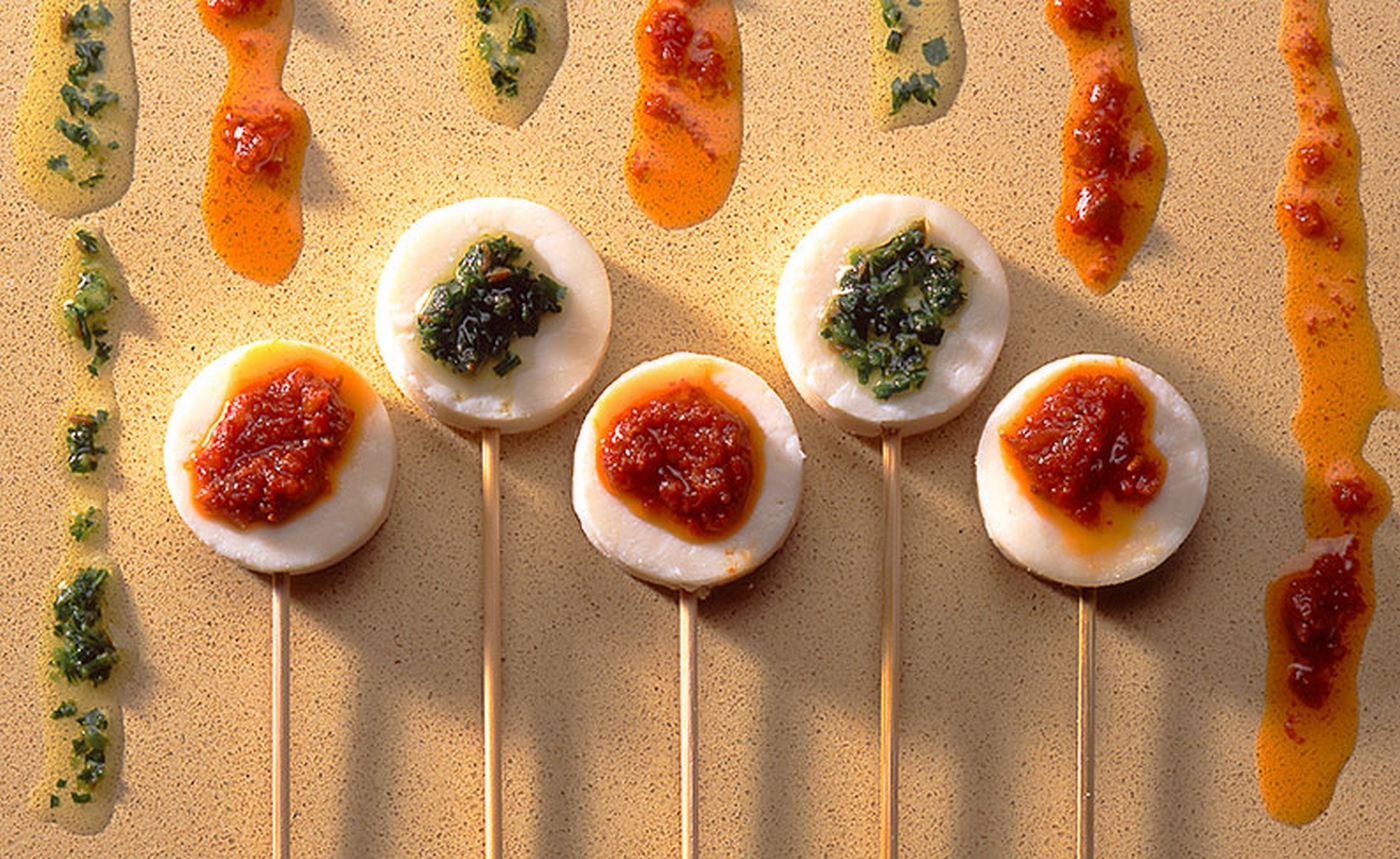 Nowadays, Tenerife produces a wide array of cheeses, from creamy goat's cheese to tangy blues. Cheese-making is an activity of such cultural importance that every year a number of events and festivals are organised to celebrate the island's cheese-making traditions. The Feria del Queso de Tenerife, held every November, attracts cheese lovers from all over the world.
One of the most popular cheeses in Tenerife is Queso Palmero, a hard cheese made from goat's milk and originally from La Palma, not Tenerife! This cheese has a distinctive flavour that is both sweet and salty, with a hint of hazelnut. Another popular variety is Queso de Flor de Guía, or simply, Queso de Guía, traditionally wrapped in fig leaves. This cheese, made from ewe's milk from the Canary Islands, can also be made with blends of cow's milk and even goat's milk from local breeds. Its main value lies in the fact that it is the only cheese from the Canary Islands that uses a vegetable coagulant, thistle flower, widely used in the Portuguese cheese-making tradition.
Tenerife cheese is made mainly from goat's milk, a semi-ripened cheese with a firm texture and creamy flavour. Much like Queso Palmero, it has a rich hazelnut flavour. However, it also has the strength and acidic character of goat's milk, giving it quite a distinct aftertaste.
Quesería Cholucas is one of Tenerife's must-visit artisan cheese producers for those who love a good surprise and a wonderful tale of local tradition. Granja Cholucas is a small family-run goat farm located in the town of La Sombrera, and the family offers visits to the farm where you can see the native breed of goats that give birth to wonderful raw milk cheeses steeped in tradition.
Those with a passion for fine food know that a good meal depends, not only on the chefs' skilled touch, but above all on the quality of the produce. In Tenerife, a group of people that completely agree with this philosophy belong to Mercadillo La Orotava, an association that promotes and showcases all kinds of small-scale producers who do not have the means to market their products independently. Naturally, all kinds of producers are present, but today we're focusing on cheeses and wines and in this Mercadillo they are so well represented!
If you're a cheese lover, you definitely won't want to miss a trip to Quesería Montesdeoca. The family-run cheesemongers have been producing award-winning cheeses for over 30 years, using traditional techniques and locally sourced milk. The dairy offers guided tours of its facilities, tasting workshops and even guided tours for schools!

The perfect blend of cultures
The wines and cheeses of the island of Tenerife reflect its unique terroir and rich history. From ancient grape varieties to traditional cheese-making techniques, the resulting tastes are both distinct and exquisite. Whether you're a wine lover or a cheese enthusiast, there's something for everyone on the island. So it's time to sample all these different delicacies and invite your friends over for dinner. Why not add some of these great products to your recipes? Or try some of the island's traditional recipes? We can't wait to hear your ideas!